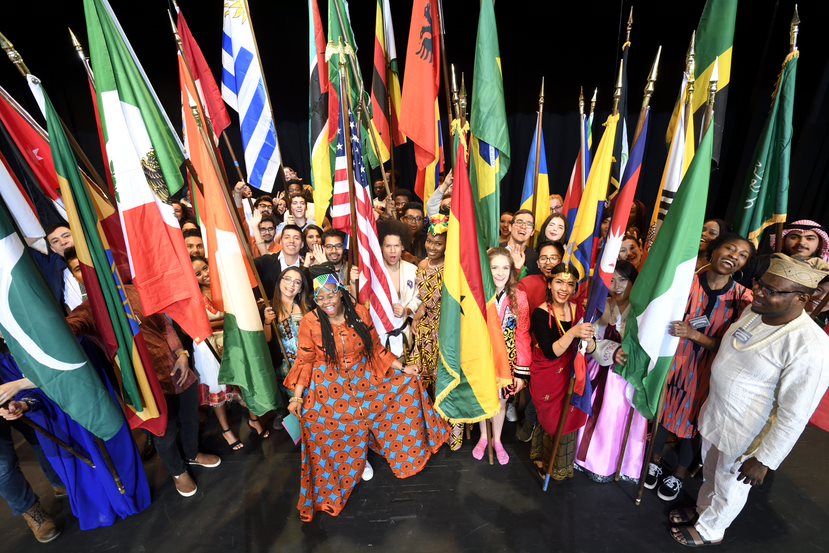 New Student Blog
The International Center for Students and Scholars (IC) is thrilled to welcome you to the start of your journey at the University of Bridgeport! The IC team strives to offer comprehensive immigration advising and cultural adjustment advising to international students and scholars in support of your academic pursuit. We promote cross-cultural understanding and respect by organizing events throughout each semester. We try to create an inviting and comfortable environment and hope you will find UB a home away from home.
You will need to visit us as soon as you arrive in the U.S. It's important to plan your initial trip to arrive in the U.S. no sooner than 30 days before your program start date as shown on your I-20. Please bring ALL of your documents with you. We are located at G-133 of the Wahlstrom Library. Our building is number 1 on our campus map.
UB is perfectly situated for easy access to local and tri-state area CPT & OPT employment opportunities, hot spots, dining, and entertainment. For transportation, please click here.
Steps to follow:
1. Pay your tuition deposit (if you haven't already)
To secure a seat for your classes, submit your tuition deposit following the link in your application portal, through our website, or via Flywire.
2. Pay your housing deposit
International students under the age of 21 are required to live on campus. Pay your housing deposit (if you plan to live on campus) following the link in your application portal, through our website, or via Flywire.
3. Create your UBNet ID
Visit www.bridgeport.edu/ubnet to create your UBNet ID which provides access to the myUB Portal, Canvas, Web Advisor, UB mail, your schedule, grades, and university notifications. You will need your student ID number in order to create your UBNet ID. This number is available on your acceptance letter. Questions? Visit the UBNet Knowledge base.
4. Check-in
All students are required to complete the check-in process including:
Students who are entering the U.S. for the first time on a UB I-20
Students who have been in the U.S. on an I-20 from another school and are transferring to UB
Students who have attended UB's English Language Institute and received a new I-20 from International Admissions Office for a degree program
Step 1 Passport check-in
Passport check-in is a mandatory process. As per immigration requirement, the university has a deadline to report your physical presence and your enrollment to U.S. Immigration authorities. Please complete your passport check-in as soon as you arrive in the U.S.
After you arrive in the U.S. submit the following documents here.
Acceptance letter
Passport(s)
Visa
I-20

Sign page 1
Do not write or modify page 2
Upload both page 1 and 2

Local U.S. address and local phone number
I-94 (available at https://i94.cbp.dhs.gov/I94/#/home by clicking Get Most Recent I-94)
Entry stamp (if available)
Transfer students: provide all previous I-20s, EAD or change of status approval notice if applicable)
Please note: If your passport check-in is completed, you will receive an email through your UB email account. If revision is needed, instructions will be given through email. To ensure successful completion of your passport check-in, check your UB email after each submission.
Step 2 Report in-person
You are required to complete check-in immediately upon arriving in the U.S. This is extremely important in ensuring that you have a smooth start to your first semester! Please choose a date/time to finalize your check-in by clicking here .
Please note: You must complete Step 1 before you report in-person.
5. Health report
You should complete Parts A and B of the Health Examination Report prior to your physician's examination. Once complete, submit your report, a copy of your immunization record and COVID-19 vaccination information to Health Services here.
6. Official Transcript
The Final Official Transcript must be an original transcript with the Registrar's stamp or signature and submitted in a closed envelope that no one has opened. Scanned, photocopied or uploaded transcripts submitted as part of your application for admission do not fulfill this requirement. The Final Official Transcript can be provided to us upon your arrival on campus or can be sent to:
University of Bridgeport
Admissions Office
126 Park Avenue
Bridgeport, CT 06604
7. Submit your arrival form
When you have your travel information, submit your Arrival Form so we know when to expect you!
International Arrival Form Spring 2024
8. Attend New Student Orientation
Save the date for Summer International Student Orientation on Thursday, January 4, 2024. This event is mandatory; details will be forthcoming.
Sign up for Orientation here.
9. Contact your academic advisor to enroll in your classes
Academic advisors can be found in the student's UBNet account. You will need to contact your academic advisor to complete the process of enrolling in classes.
10. Apply for UB ID here after you are enrolled in classes
11. Complete New International Student Orientation course online
This free online course is mandatory. You do not have to finish the sessions all at once. You will be able to exit and enter this course, but it must be completed within 30 days of the semester start date! This does not replace the in-person Orientation. The hold on your account will be lifted after you complete the entire course.
Note: *You will not be able to apply for on-campus work authorization until this orientation course is completed.
12. Complete emergency contact information through MyUB (Self Service, User Options)
13. Housing
For anyone needing help with finding accommodations either on or off campus you can start with these links:
Graduate Housing
For undergraduates and students under 21 years of age view Undergraduate Housing
To get housing on campus, please take the following steps:
Email reslife@bridgeport.edu to make housing arrangements
If you wish to live on campus, please send in your housing deposit and housing contract prior to your arrival
Upon arriving to campus call 203-576-4228
To browse more information on our webpage, start with Resources for New Students on our homepage.
14. Prepare your finances
Students must either pay their full tuition and fees or enroll in a payment plan before the first week of classes. Students may view their bill and elect to enroll in a payment plan after they have registered for classes.
Upon receipt of the I-20, all new incoming students are assessed a $4,000 USD Administrative Deposit, which is part of the first semester tuition. Payment of the student's first semester tuition will include this administrative deposit and is non-refundable. The administrative deposit is required upon arrival to the United States and non-payment may lead to SEVIS termination.
Congratulations and welcome again to UB!
For more information:
International Center for
Students & Scholars
126 Park Avenue, G-Level
Bridgeport, CT 06604
internationaloffice@bridgeport.edu
(203) 576-4395

Office Hours
Monday to Thursday
8:30 a.m. to 5:00 p.m.
Fridays
8.30 a.m. to 2.00 p.m.